Complete Cleaning Kits
Complete Cleaning Kits Contain an Assortment Of Bottles, Polishing Cloths and Instant Detailers
Brillianize is America's #1 Rated Anti-Static Cleaner and Polish for Plastics, Glass and All Hard Shiny Surfaces.
Clean and Polish:
Use on:

Acrylic
Acrylite®
Chrome
Glass
Granite
Lacquer
Lexan®
Lucite®
Mirrors
Plexiglas®
Stainless
Titanium

Airplanes
Appliances
Aquariums
Art & Framing
Automobiles
Motorcycles
Musical Instruments
Photocopiers
Recreational Vehicles
Retail Displays
Scanners
Watercraft
Brillianize contains no alcohol and no ammonia. Brillianize is safe to use around children and pets. Cleans fresh water and salt water aquariums.
Brillianize Plastic and Glass Cleaning Kit with Circular Knit Microfiber Polishing Cloth -- $14.95 -- Plastic and Glass Cleaning Kit with Microfiber Polishing Cloth
Buy Now
Brillianize Plastic and Glass Cleaning Kit with Microsuede Polishing Cloth -- $14.95 -- Plastic and Glass Cleaning Kit with Microsuede Polishing Cloth
Buy Now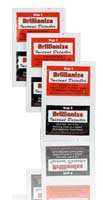 Instant Detailer 100 Count Bulk Pack -- $48.00 -- 100 Instant Detailers
Buy Now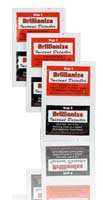 Instant Detailer 50 Count Bulk Pack -- $25.00 -- 50 Instant Detailers
Buy Now
Instant Detailer Kit with Microfiber Polishing Cloth -- $7.95 -- 12 Instant Detailers with Microfiber Polishing Cloth
Buy Now
StoreFront
|
Bottles And Sprayers
|
Complete Cleaning Kits
|
Combination Packages
|
Cloths
Plastic Cleaner
Plastic Polish
Anti-static
Non-toxic cleaner
non-toxic polish
Brillianize Online Store powered by Nexternal
shopping cart software